About Patricia Baker, President and CEO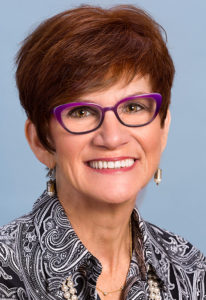 When Patricia Baker became the Connecticut Health Foundation's (CT Health) founding leader in 1999, she brought over two decades of experience as a visionary and pragmatic leader in health care policy-making, service provision, advocacy, and community engagement. Prior to undertaking the directorship of the foundation, Patricia served as the national program director for the March of Dimes Birth Defects Foundation, director of Connecticut government programs at Oxford Health Plans, executive director of Planned Parenthood of Connecticut, and associate executive director of Planned Parenthood of Wisconsin.
Under Patricia's leadership, CT Health has become the state's largest independent health foundation. By using grant-making and technical assistance to improve the health status of Connecticut residents — particularly underserved populations — the foundation has literally changed and saved lives. "But no one can do this work alone," Patricia says. "I am very proud of the role we play. But I'm also humbled every day when I witness the dedication of our grantees and partners as we work together to build a more equitable system."
Patricia, who holds a master's degree from the University of Wisconsin in urban and regional planning, is affiliated with a number of policy and planning organizations. She is a member of the Institute of Medicine (IOM) Roundtable for the Promotion of Health Equity through the Elimination of Health Disparities; a member of the board of directors of Grantmakers in Health; vice chair of the governor's Health Care Cabinet; chair of the State Health Improvement Plan advisory council; and serves on several other advisory committees.