Are the Presentation Hills Alive with the Sound of Music?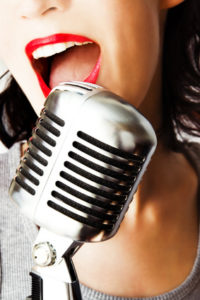 Since I (Jenn) got back from the Communications Network's annual conference in Boston, I've been thinking a lot about what makes communications effective.. While I enjoyed both days of the conference, it was the second day's speakers—Swanee Hunt, Jelly Helm, and Van Jones—who really caught my attention. And not just my attention. I saw the #comnetwork11 hashtag light up on Twitter with sound bites during their speeches. I saw people nodding along, laughing, and murmuring to themselves. I saw the standing ovation Van Jones got at the end of his presentation.
Communicators walking the talk. How did they do it? In short, they were warm, personable, and human, and the audience ate out of their hands.
Swanee Hunt discussed her methods directly. First, she gave the example of going to a conference to see Elie Wiesel, the Romanian-born Jewish-American writer, professor, political activist, Nobel Laureate, and Holocaust survivor (thanks Wikipedia) speak. When it was his turn to speak (last), he said, "I thought I'd sing to you a few of my favorite childhood songs from when I was growing up in Romania." She said not only did that stick with her, she thought about the use of song when talking to people. And yes, she sang. This got a big reaction from the audience.
Sing – was she crazy? But it worked.  (If you're wondering, two different versions of "Sing a Song of Sixpence.")
She encouraged us to enjoy public speaking. Enjoy public speaking – was she crazy? But Swanee was having a great time on stage. When someone asked her the secret to her success, she said "I guess I fall in love with my audience."
Fall in love with the audience! Me and my fellow communicators saw this working before our very eyes – but how to convince foundations to do this? Would any of them actually sing?
Swanee was a tough act to follow…but luckily Jelly Helm had it under control. First he confessed that he was an extremely sensitive human being – he even seemed vulnerable on stage. But he sang one of his sentences as per Swanee and helped us all laugh and relax.
Jelly Helm is an artist who has worked for years in advertising. Jelly told us stories about storytelling and the role of emotion in storytelling. "I'm not afraid to talk about love," he said. "Nike has a big heart as part of a monument on their campus. If Nike can talk about love, so can I." And: "love is what makes us take any meaningful action."
More love! (Be sure to read Bruce Trachtenberg's post about Jelly's questions for the audience – can you answer them?) "In summary," said Jelly, then he sang, "I believe the children are our future…" to big laughs from the audience.
And last, Van Jones. I have to note that Van Jones did not sing, although I missed the last couple of questions from his Q&A segment, so if I missed Van Jones breaking into song, please let me know.
But he did open with humor. "I had PowerPoint slides to impress you with how smart I was. But you look like good people so I'll just talk to you." But please note – he just talked to us. Swanee Hunt? She just talked (and sang) to us. So did Jelly. They were friendly and made it seem like they were talking just to me. The audience was captivated – which was clear both during the Q&A and in my chats with others between sessions.
During the conference, I heard quite a few people discuss "the formality of foundations" in everything from policies to communications to grant-making. And yet, what made these speakers effective was their ability to just talk to their audience, which made us feel good.
I know I'm going to start with myself. I don't know if I'll go so far as to break into a rendition of "Oh What a Beautiful Morning" but I'll definitely try to have a little more fun on stage!