Change is Here. What are we in the Oral Health Community Going to Do about It? This.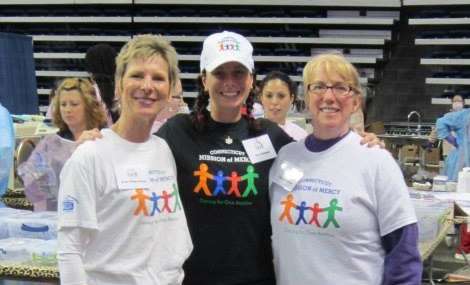 Today's guest post was written by Mary Boudreau, Executive Director of the Connecticut Oral Health Initiative and member of the 2014 Class of Health Leadership Fellows.
As Access Health CT, the state's health insurance marketplace says, "Change is here."
And, it really is. The state of Connecticut has surpassed all projections of how many people would enroll in health insurance under the Affordable Care Act (ACA) by the end of 2013. This is a health care systems change on the magnitude of the creation of Medicare in 1965.
Does the ACA prioritize oral health? Such a simple question with complicated answers. As the Executive Director of the Connecticut Oral Health Initiative (COHI), I see both impacts and opportunities for improving the oral health of our state residents.
If you're ready, like me, to jump feet first into the legislative session to advocate for oral health, you don't want to miss the COHI 2nd Annual Advocacy Conference I'm leading next week. We ask for you to register in advance.
You'll hear first from the experts, but then we'll get to action steps.
You'll identify specific opportunities coming up in the 2014 legislative session
You'll learn more about your role in the legislative process
Most importantly: you will leave our conference ready and confident to talk to policy makers, and have an Advocacy Toolbox in your hands to support you along the way.
Join us on Wednesday, January 22, 2014, from 5:30 – 8:30 pm at the CT Health Foundation, 100 Pearl Street, Hartford, CT, 2nd floor Conference Room, East Wing. Dinner will be served!
You'll hear from:
Amy D. Gagliardi of the Community Health Center, Inc. will give us the "elevator speech" on Oral Health and Pregnancy, that we can use when talking to legislators, state agency policy makers, to medical professionals to increase their interest in this topic.
Dr. Tamim Ahmed from Access Health CT will explain what the All Payer's Claim Database is and where dental insurance fits into this plan to collect data.
Susan Davis of the Connecticut Health Network will help us understand concepts like the patient-centered medical home and how they create champions for oral health.
Judith Blei, COHI's Advocacy Consultant will answer the question, "Is Oral Health Included in the State Innovation Model?"
Oral health advocates will present their top tips on advocacy followed by a questions and answer period.
COHI has invited a number of legislators to come to hear us and for us to hear them. Legislators do love to hear what their constituents care about, so I urge you to invite them (here's how you can reach your legislator: find them here).
Will we see you there? Again, please register for our event so we can plan accordingly.