Changing Systems with Neighbors for Kids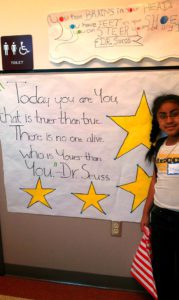 To treat mental illness in children, it's important to spot it early, identifying and intervening before more serious problems develops. The Connecticut Health Foundation (CT Health) has been  taking a community-based approach to reaching children at risk of mental health issues.
To test this theory, we initiated a multi-year grant program that has fostered the planning and implementing of pilots within four communities – Derby, Manchester, Middletown, and Waterbury. Each of these pilots is based in a school and links community and medical services to identify and treat these children.
Each pilot has structured themselves differently based on their unique needs. May is Mental Health Month, and so we're featuring each of these communities every Tuesday throughout the month.
"You can't have a program like Neighbors for Kids (NfK) without the assistance of a lot of people," said Kate England, Principal of Nathan Hale Elementary School in Manchester, Connecticut. When trying to create systems change, it's essential to leverage existing partnerships and plans. NfK comprises many partners, including the school, the Manchester Youth Services Bureau, Manchester Community College, the Office of Neighborhoods and Families, and more.
Here's where the leverage comes in: NfK has linked their program to the citywide Manchester Children, Youth and Family Master Plan. The plan acknowledges the changing landscape and diminishing resources of the city, and seeks to invest in the Manchester's children and families to strengthen the foundation of the community.
The linkage has done two things for NfK. First, being a part of the plan has given NfK access to new connections across the town, thereby allowing them to deepen their impact. Second, the plan led to the creation of an Office of Neighborhoods and Families (ONF), which created the opportunity for a strong partnership. NfK is now centralized in the ONF building, which is across the street from Nathan Hale Elementary School (the school where NfK is based).
How have the students benefited? Let Kate England and Erica Bromley, the Director of the Manchester Youth Services Bureau, tell you themselves.