Comparing Apples to Apples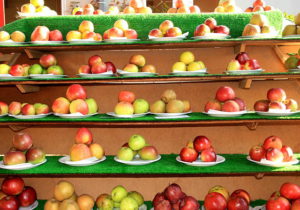 Surveys usually ask us, the respondents, to provide a little information about ourselves, including demographic information. The goal is for the survey researchers to investigate trends within broad categories, including racial and ethnic demographics.
When it comes to surveys about health, those categories are very important. For the Connecticut Health Foundation (CT Health), we really want to be able to measure the health of vulnerable populations so that we can measure if we're moving the needle on the issues that affect them.
And yet, can you really paint with so broad a brush as "Latino" or "Black" or "Asian" when asking people about their health? If there are differences between, for example, Mexican Americans and Cuban Americans, what are the implications for us missing out on that data?
Which is why we're interested in the federal Department of Health and Human Services' new, refined standards that will allow for more specific data capture in surveys about respondents' race and ethnicity. A more accurate picture of the health of specific populations will allow us to better address disparities.
In the press release about these standards, HHS cited how the diabetes-related mortality rate differs within the Latino category. That rate for Mexican-Americans and Puerto Ricans is twice as high as that rate for Cuban Americans. Understanding that this difference exists allows us to ask better questions, such as why does this difference exist? – and take the most effective action to improve health outcomes.
Here's an example of how the new regulations will help. In Connecticut, there are large differences between the Puerto Rican Hispanic population and other Hispanic groups. From the 2010 American Community Survey we know that Puerto Ricans are likely to be younger, less likely to have a college education, more likely to have a disability, more likely to be unemployed and have lower income than other Hispanic groups.  In addition, they are more likely to have health insurance, but this insurance is likely to be public rather than private insurance.  All of these factors are potentially related to health status and of concern to those interested in decreasing health disparities.
"Race, ethnicity, and place of birth all affect health status and health outcomes.  Greater specificity about ethnicity will help us to reach better understanding of differences in health status and outcomes, and hence to plan more effective programs for improving population health, says Dan Friedman, formerly Assistant Commissioner of the Massachusetts Department of Public Health.
Dan has conducted research on race, ethnicity, and low birth weight.  He found substantial differences among mothers of differing ethnicities within individual racial groups, and also that U.S. born women often had lower birth weight babies than their ethnic counterparts who were born abroad.
From an updated look at this issue by Larry Finison, a consultant to CT Health, it is clear that there are significant differences in low birth weight between, for example,  Puerto Rican (more LBW) and Dominican Hispanic babies, and between Korean and Cambodian (more LBW) Asian populations, to give two examples.  The same could be true for Connecticut.
We hope that Connecticut and other states will take the opportunity to look at such issues in a fined-tuned way that may help to target groups most at-risk, and the new regulations may encourage more effort in this direction.
Photo by Hugh Chevallier used under the Creative Commons License.