Creating a Better Patient-Provider Dialogue with Information
Imagine you just received some blood test results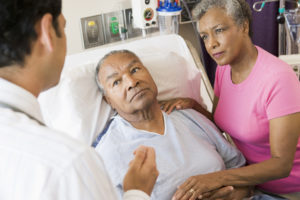 that indicate you have Type 2 Diabetes. Your doctor has asked you to come in for an appointment to discuss those results and your treatment options. You want to make the most of the time, so you start to do some research ahead of time about the condition and its treatments. But where do you go for that information? What resources can you trust?
Enter the Effective Health Care Program. The Agency for Healthcare Research and Quality (AHRQ), which exists within the US Department of Health and Human Services, started this initiative to put trusted, credible information into the hands of both patients and providers to foster more informed conversations between the two. The idea behind the program is that improved communication can lead to increased compliance and reduced health care costs, to name just a few (but huge) benefits.
The materials are developed based on comparative effectiveness research, and provide comparisons of treatment options: drugs, medical devices, tests, surgeries, and other ways to deliver health care. With this information, patients and providers can work together to select the best option for the patient.
"Patient-centered outcomes research is fundamental to improving the quality, safety, appropriateness and effectiveness of health care and creating a system that truly meets the needs of patients," says AHRQ Director Carolyn Clancy, MD. "The ultimate goal is to provide information that clinicians and patients can use in partnership to make the best individual treatment choices."
The program researches topic areas that the federal government, with input from the public, has identified as priorities:
Arthritis and nontraumatic joint disorders
Cancer
Cardiovascular disease, including stroke and hypertension
Dementia, including Alzheimer's Disease
Depression and other mental health disorders
Developmental delays, attention-deficit hyperactivity disorder, and autism
Diabetes mellitus
Functional limitations and disability
Infectious diseases, including HIV/AIDS
Obesity
Peptic ulcer disease and dyspepsia
Pregnancy, including preterm birth
Pulmonary disease/asthma
Substance abuse
AHRQ's strategy for getting this information to patients is to connect with providers and health organizations who could distribute this information more broadly. AHRQ is also looking for ideas for more health information materials, and welcomes information from all stakeholders, including the public.
If you're looking for information in any of these areas, would like to disseminate these materials, or have an idea for AHRQ to include, please visit the Effective Health Care Program website. You can also email Tara Schuh, New York Regional Office Lead at Ogilvy Public Relations Worldwide.