Giving Kids a Smile with Community Health Center, Inc.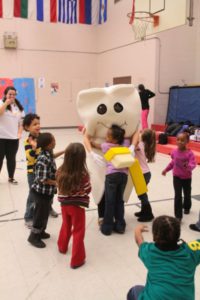 Every year the first Friday in February is Give Kids A Smile® (GKAS) day. This is an American Dental Association (ADA) sponsored event where teams of dental providers come together to provide free oral health care services to children from low-income families.
Connecticut Health Foundation (CT Health) grantee* Community Health Center, Inc. (CHC) has participated in GKAS for the last seven years, but on February 3, 2012 they decided to do something different. This year, all eight of their dental sites participated by dedicating their services to children and, making it a statewide effort.
Charise DiPierro, MA, is Program Manager Mobile Dental and Community Wellness Programs for CHC, as well as a participant in the Class of 2012 CT Health Leadership Fellows Program. She is the coordinating forced behind GKAS at CHC.
Jenn: Describe the event and what happens.
Charise: At our dental sites, GKAS day was not very different than any other day, except that we dedicated all of our services to kids. We also worked with dental providers in the community who committed their time, services, and staff to seeing a certain number of children in their own dental offices.
For this event we provide comprehensive services including cleanings, sealants, x-rays, dental exams and restorative treatments (fillings and extractions).
Not only did we expand the event to encompass all of our sites this year, we also tried to make it fun. At Commodore MacDonough Elementary School in Middletown, we combined GKAS with our Recess Rocks! program. Our Americorps members created exercise routines to songs about, for example, brushing your teeth. The kids had a great time moving around (and learning about their teeth).
Jenn: What was the impact of GKAS this year?
Charise: We were able to see quite a few kids. In our community health centers and mobile dental sites, we saw almost 200 kids. Our mobile sites included Oval Grove (a collaboration with the VNA), The YWCA of New Britain, and New Britain High School.  In addition we were able to support scheduling efforts for the community dental providers who were able to see an additional 30 to 40 children. We're pretty pleased given this the first time we've made this a statewide effort.
Jenn: Once the kids are in the chair, so to speak, how do you convince them and their families to prioritize oral health?
Charise: We know that oral health is not the foremost issue in everyone's mind. We do want our patients to understand the importance of good oral health care and the impact that oral health has on overall health. We consider education a critical and complementary piece of GKAS. During both hygienic and restorative work, providers talk to patients and their parents about caring for their mouths, although the conversation can be a little different based on the work they're having done.
Jenn: How does GKAS day change systems?
Charise: On its surface, a one-day event doesn't seem like systems change (which I'm learning more about through the fellowship). It's a great event that provides access to a lot of kids – but then what?
The GKAS slogan is, however, "more than just a day." Over the seven years CHC has been involved in this event, we have seen that the need for this kind of event has gone down. Fewer kids need one stop access to care, because more kids now have access to a dental home, paid for either through HUSKY or private insurance.  Even uninsured families are given affordable options to access dental care.
The way I think GKAS changes systems is that it continues to shine a light on the issue of access. While the need has gone down, there are still kids without a dental home, without insurance, who can't get access. If we're still having kids that need a day like GKAS to get the oral health care that they need, this issue has not been resolved. Period. I think that these kinds of event can ultimately help to inform policy changes at a higher level by bringing attention to the topic.
*CHC is a grantee of the foundation but for different programs. You can explore our grants database to learn more.
 **Photo used courtesy of CHC.