Guest Post: Let's Face It-Real Conversations Require More than 140 Characters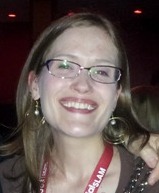 Do you tweet-up? A tweet-up is when people who know each other through Twitter/social media meet up in real life to get to know each other better. It's a great way to network and to deepen relationships beyond 140 characters at a time.
Today I'm on the Communications Network blog talking about the Social Media Managers in Philanthropy Virtual Tweetup (can you tell we need a new name?). We're looking to expand our group. If you're interested, come visit us on the blog to find out the details.