Health Insurance Exchange Board Racing Ahead While Protestors Stood Silent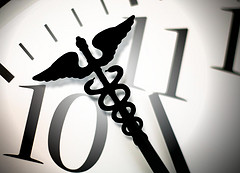 By Monette Goodrich, Vice President of Communications and Public Affairs
The overarching goal of the federal Affordable Care Act is to enable previously uninsured people to obtain health insurance.  To make this happen, subsidized health insurance plans will be offered to low- and moderate-income individuals and small employers through health insurance exchanges.  The principles and theory behind health reform aligns nicely with the Connecticut Health Foundation's (CT Health) mission to improve the health status of the people of Connecticut, especially the un- and under-served.  Foundation staff will be closely monitoring the development of state's health insurance exchange over the next few years to ensure our funding priority areas — children's mental health, oral health, racial & ethnic health disparities – are integrated throughout this transformation of our health care system.
Usually meetings of government bodies such as the Health Insurance Exchange Board are interesting from a policy wonk's point of view, but rarely newsworthy.   Today's meeting was different.  As Office of Policy & Management (OPM) staff was presenting the board with a progress report via PowerPoint, about 15 people, with large Band-Aids covering their mouths, stood up to protest the Board's composition.  Many held small yellow signs, each with a word to complete a sentence.   For more information about the protest, visit CTNewsJunkie or the Connecticut Network.
While the silent protest provided a little excitement, it did not diminish the facts:  the Board, the Office of Policy & Management and the Office of Health Reform & Innovation have a lot of work to do by March 2012, the application deadline for the next round of federal grant funding for health insurance exchange development.
States creating their own health insurance exchange must meet specific developmental benchmarks before they can apply for "level 2" funding in March of 2012.  Connecticut received $6.7 million in "level 1" funding earlier this year to start building an infrastructure on which our health insurance exchange will stand.
Part of building this foundation includes research.  OPM consultant Mercer will present results of eight different assessments on issues such as the uninsured statewide, information technology gaps, financial sustainability models and the potential impact on the Medicaid (HUSKY) program at the next Board meeting in November.   After garnering stakeholder feedback in December, the Board must make formal public policy recommendations to the Governor and legislature by early next year.
In the meantime, OPM has issued several requests for proposal (RFPs) to establish an administrative structure, develop operations processes and information technology requirements, and create customer assistance and support infrastructure.  In addition, a job description for the chief executive officer of the health insurance exchange has been developed and disseminated nationally.
At the same time, the Interagency Exchange Work Group met for the first time to discuss proposed federal rules involving health insurance exchanges.  Representatives from seven different agencies will meet as needed to discuss impacts the exchange will have on their agencies and constituents.
If that isn't enough to keep the Board busy, their next priority is deciding what health services will be considered "essential health benefits," the minimum level of health services an insurer in the exchange must offer patients.  While all states await an official definition of essential health benefits from the U.S. Secretary of Health and Human Services, the Board will review "Essential Health Benefits: Balancing Coverage and Cost," a recently published report from the Institute of Medicine.
As the marathon race to January 2014 (the date all health insurance exchanges must be fully operational) continues, CT Health will continue periodic progress reports.  If you have any questions or sources of information that would be helpful in understanding this complex new system, please share with all of us!
**Image by Truthout.org used under the Creative Commons License.