Join Us in Hartford, New Haven, & Waterbury for a Conversation About Our New Direction
We're back on the road! This month, come see us in Hartford, New Haven, and/or Waterbury to discuss what our strategic shift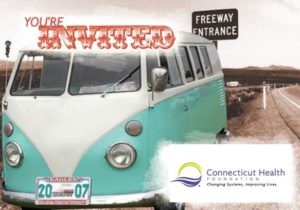 means for your organizations and your communities.
In April, the Connecticut Health Foundation (CT Health) released its new strategic plan focused on health equity for people of color (you can read it here).
At our forums, after a short presentation from the foundation, we will open the floor to questions about our new direction and how you might partner with us. Following Q & A, you will have an opportunity to share your thoughts about how the state's health care system needs to change to better serve you.
Please RSVP to nancy@cthealth.org by Fri., July 19, 2013 so that we can prepare accordingly.
July 23, 2013: Hartford
Saint Francis Care, Connecticut Institute for Primary Care Innovation, Collaborative Theater, 260 Ashley Street, Hartford
Lunch & networking: 11:15AM – 12PM; Discussion: 12PM – 1PM
July 24, 2013: New Haven
United Way of Greater New Haven, Wells Fargo Community Room, 370 James Street, New Haven
Registration, networking & light refreshments: 10:30AM – 11AM; Discussion 11AM – 12PM
Directions
July 30, 2013: Waterbury
Naugatuck Valley Community College
Registration, lunch, & networking: 11:15AM – 12PM; Discussion: 12PM – 1PM
Please RSVP to Nancy Nolan, Grants Manager at nancy@cthealth.org by July 19, 2013.
We hope to see you there.