Like Setting a Broken Arm, Depression Can Also be Fixed
In the United States, over 19 million adult Americans suffer from depression
each year, yet most people wait years before seeking help and many never get treatment.  Nearly 20 percent experience at least one depressive episode, when a person experiences five or more symptoms during most parts of the day for a two week period, including feelings of sadness, worthlessness, loss of interest in everyday activities, and disturbances in eating and sleeping patterns. With untreated depression, everyday life can be difficult, if not impossible.
The good news is, according to Kim O'Rielly from the Southwest Regional Mental Health Board (SWRMHB), is that 80 percent of people who seek treatment find it effective (whether treatment constitutes medication, therapy, or a combination of the two).
The first step to treating depression is to realize something is wrong and that you need help. That's why on Oct. 6 — National Depression Screening Day — the SWRMHB hosted screenings for depression at colleges and universities, senior centers, and community sites across Fairfield County to help people take that first step.
For the past couple of years, the Connecticut Health Foundation (CT Health) has given SWRMHB a community sponsorship to help them promote their event. I spoke with Kim O'Rielly to talk to her about how National Depression Screening Day helps uncover and treat depression.
Jenn: What difference were you looking to make by hosting this event?
Kim: One thing we look to achieve each year is to raise awareness about mental illness. Many people don't recognize that what they are experiencing could be symptoms of depression. For example, men who are depressed will often express irritability or anger rather than the sadness that most people think characterizes depression. People who are losing sleep, eating too much or too little, or perhaps have lost interest in activities they usually enjoy may not realize that these can be symptoms of depression.
The second thing we look to achieve is normalizing this illness. There's a lot of stigma around mental health issues. People may think they can deal with this themselves, that it's a weakness to get treatment. They may tell themselves, "I have to pull myself up by my bootstraps." And yet this is difficult to deal with alone and without professional help.
Our Screening Day takes place outside of mental health clinics and in a public forum so that people who realize they're just  not enjoying life the way they used to, can easily get  screened and find out answers to the way they have been feeling.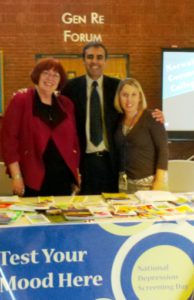 In a recent survey, 50 percent of all college students said they are so stressed that they can't get their work done, or enjoy social activities. Other studies indicate that two out of four college students have felt so hopeless during the past year that they couldn't function. This is a concern because depression can lead to other behaviors such as withdrawing socially, substance abuse, or even dropping out of college.
To address these concerns, SWRMHB partnered with six colleges in the area (University of Connecticut – Stamford, Norwalk Community College, Sacred Heart University, Fairfield University, the University of Bridgeport, and Housatonic Community College) to specifically target young adults. We did also partner with three senior centers in the area because depression in older adults is often missed, as well.
Jenn: What's the impact of unaddressed mental health issues such as depression?
Kim: People who are depressed just aren't as productive. With depression affecting 6 percent of employees each year, it is estimated that $30 billion worth of productivity is lost annually.  Major depression effects work performance and depressed workers lose the equivalent of two to three work days per month. As I mentioned before, people may turn to unhealthy behaviors such as substance abuse to cope with their feelings, and they may also withdraw and socially isolate. In the worst case, untreated mental illness can lead to suicide.
Jenn: How does the sponsorship from CT Health make a difference?
Kim: For the event itself, all the organizations that we partner with donate mental health clinicians to provide the screenings.   But in organizing an event like this, getting the word out is important. SWRMHB manages all the publicity for the event, and that's how the funding is spent.
This year we ran a Facebook advertising campaign that was targeted to young adults – what' s cool about Facebook is that you can target not only by age, but by geographic area. We only ran it for two weeks and we saw:
2.5 million impressions (people who saw the ad)
330 young adults clicked our ad to go to the website for more information
We were really excited about that, but we also used more traditional forms of outreach such as press releases, radio ads, media interviews, posters, and lawn signs.
Jenn: What would you recommend to someone who may be experiencing depression?
Kim: If you have a good relationship with your primary care physician (PCP), talk to him or her first. Sometimes there are underlying medical issues that can cause depression, such as having a low thyroid. And if not, your PCP can refer you to a mental health professional.
For everyone else who lives in Connecticut, I recommend calling 211 Infoline. It's a toll-free resource, and they can help connect you to different providers throughout the state.
You can also contact us especially if you're in the Fairfield County area. Making that first step to tell someone "this is how I'm feeling, where can I get help?" is so important.
Pictures were taken during the screenings at Housatonic Community College and Norwalk Community College.