Moving Systems with the Class of 2012 Health Leadership Fellows
On June 13, 2012,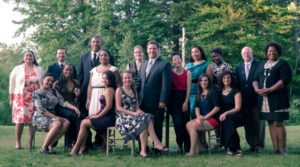 the Class of 2012 Connecticut Health Foundation (CT Health) Leadership Fellows presented their coalition projects to faculty and CT Health staff.
This year, program participants self-selected into these broad areas, identified by program staff, where CT Health is already working:
Improving the Health of African American Men
Racial and Ethnic Health Disparities in Oral Health
Racial and Ethnic Health Disparities in Children's Mental Health
Health Equity Advocacy
From there, participants drilled down into smaller, more manageable systems-change projects. The presentations represent ten months of collaboration, public will building, and practice of leadership skills identified during the fellowship.
As faculty member Heidi Brooks was fond of saying, "If it were easy, it would have been done already." Each coalition faced roadblocks to moving their projects forward – and that's where the learning and leadership skills came in.
Improving the Health of African American Men
Problem: That African American men live longer inside prison than if they're free is a shocking fact that we've discussed on the blog before. The hypothesis for this is that, once incarcerated, these men have greater access to regular, preventative health care that improves their health and their lives.
One of the biggest barriers to access for these men is a lack of health insurance, and the ability to pay for care without it. How could African American men with low income get connected to coverage through Medicaid?
Solution: The answer could lie in the state's Department of Social Services (DSS) child support enforcement division. African American men with low income are often the non-custodial parent of children for whom they are obligated to pay support. This coalition (Nancy Kingwood, Ann Levie, Marcus McKinney, and Michael Reid) worked to influence the Department of Social Services (DSS) to enroll these parents into Medicaid, a program DSS also administers.
The coalition wanted DSS to support this change. First, the coalition needed DSS to examine their own data around enrollment to provide a baseline. This proved challenging, as DSS has an antiquated computer system that prevents them from retrieving their data. As reported in the CT Mirror recently, DSS Commissioner Roderick Bremby said "eligible low-income people may be losing their Medicaid health benefits every month" due to this system and other factors.
Secondly, the coalition wanted to promote the paradigm of supporting men to support their children. DSS currently operates the Fatherhood Initiative which promotes fatherhood and responsibility.  Their thought was that making sure all non-custodial parents were supported with healthcare would extend their lives and improve the lives of their children.
Outcome: Even without technology challenges, DSS is a big systems to move. The coalition made progress in connecting with allies and partners within DSS and the Office of Health Reform and Innovation to being to move these agencies toward connecting African American men with low income to Medicaid.
Racial and Ethnic Health Disparities in Oral Health
Problem: Tooth decay affects children in the U.S. more than any other chronic or infectious disease, and results in 51 million hours of lost school time every year. And Hispanic and African American children are the most likely to have tooth decay. The good news is, as the coalition reported, decay is entirely treatable and preventable.
Solution: This coalition (Heather Crockett-Washington, Charise DiPierro, Carle-Marie Memnon, and Leslie Prado) looked into the feasibility of making a dental examination mandatory for school attendance, much like a physical exam. The World Health Organization has suggested that school dental screenings could "enable early detection and timely interventions towards oral diseases and conditions, leading to substantial cost savings."
The logistical barriers of implementing such a school form were identified by the group as:
Financial considerations for students unable to access dental services.
School staff availability for monitoring and following up on the process.
Creating a mechanism to identify and coordinate follow up care for children who need additional services.
Outcome: The coalition members focused on forming strategic partnerships to accomplish the work. They met with members of the Connecticut Oral Health Initiative (COHI) and the Office of Health Reform and Innovation, as well as CT Health consultants who are systems change experts.
Next steps for the group are focused on creating a pilot at one school to test the hypothesis that this will create an uptake in preventive dental services, and then working with COHI to use this information to advocate for a state-wide mandate.
Reducing Racial and Ethnic Mental Health Disparities for Children of Incarcerated Parents
Problem: "One day, my brother dropped his nine-year-old daughter off at school," said Tonya Wiley (not pictured) during the coalition's presentation. "And then she didn't see him again for three years."
This coalition (Mari Merwin, John Torello, Jenn Whinnem, and Tonya Wiley) chose to focus on a very specific group: the children of incarcerated parents (CIP). The incarceration of a parent is a disruptive, traumatic event for a child, and traumatic events can lead to mental health issues if left untreated.
The prison system in Connecticut is disproportionately minority: as of January 2012, the population of incarcerated individuals was 68%. And, a Sentencing Project report in 2007 reported that year "there were 1.7 million children in America with a parent in prison, more than 70 percent of whom were children of color."
Solution: The coalition's hypothesis was that mental health outcomes would improve if we could catch kids immediately after parental incarceration. If the DOC Officer doing the orientation could ask the parent, "do you have any children? Would you like us to send someone to check on them, to see how they're doing?" And, if the parent consented, the DOC Officer would then contact 2-1-1 to identify a provider to check the child.
Then the coalition learned about the REACT project, a grant-funded collaboration between (to name a few) the Connecticut Center for Effective Practice (CCEP), Central Connecticut State University, the and the Department of Children and Families (DCF), to intervene at the point of a parent's arrest.
Outcome: The coalition chose to work within REACT and approached them with a request to consider asking the parent also at the time of incarceration, the hypothesis being that parents would be more likely to comply at that time. The coalition convened DOC and 2-1-1 (acting as a link to services) with REACT members to discuss the feasibility of adding this step, and the various parties agreed to determine how they could all work together in the context of the project.
A Health Equity Advocacy Entity
Problem and Solution: CT Health is aware that Connecticut lacks an organization dedicated to advocating for policies, social conditions, leadership and accountability to ensure that disparities narrow over time. Without a central group to advocate for health equity, Connecticut lacks responsiveness to emerging state and national research and policy issues and cannot ensure that legislators will be responsive to health disparities issues.
This coalition (Sarah Diamond, Daileann Hemmings, Fernando Marroquin-Saavedra, Betty Murray, and Konjit Page) developed a proposed structure and mission for such a health equity advocacy organization.
Outcome: The group chose to focus on the intersection between the social determinants of health and public policy. The coalition styled their presentation after the show Shark Tank, pitching their proposal to a group of three sharks (I was a shark!) to get a six-month planning grant to start up the organization. They continue to work on their business plan, details of which will come soon.
A week later, the Class of 2012 graduated from the program to become full-fledged fellows. Congratulations to my fellow Fellows! The commencement ceremony at the Pond House was truly glamorous.