Recap: Access and Equity: Can We Get Affordable Care to All of Connecticut?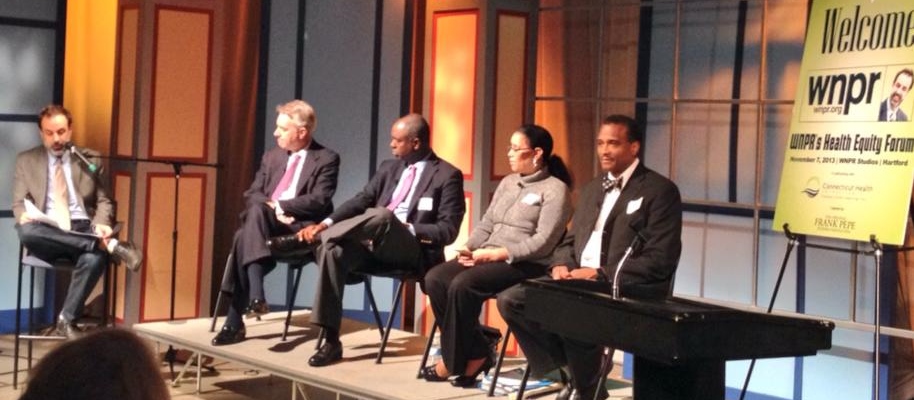 Today's guest post was written by Fred McKinney, Ph.D., President and CEO of the Greater New England Minority Supplier Development Council (he is the last person on the right in the photo).
Much of the focus on the Affordable Care Act, aka Obamacare, has been on the broken website and other glitches in the program from reports of people losing their previous coverage, to examples of people whose personal information has been compromised.
Curious that I am, I decided to take a look at the Affordable Care Act website that has drawn all of the attention.
The site, www.healthcare.gov was working when I visited it. I was able to price several plans. I was able to determine, not to my surprise, that I was ineligible for any subsidy from the Federal government to assist me with my premium payments. Now I did not try to buy a plan, but in terms of informational responsiveness, the site worked and was very helpful and intuitive.
But the other reason I visited the site was that I was invited by the Connecticut Health Foundation to be a panelist on the WNPR radio program hosted by John Dankosky, Where We Live. I shared the dais in front of a live audience in their Hartford studios with Kevin Counihan, President and CEO of Access Health CT, the state health insurance exchange, an "assister" in the Hispanic community in Hartford, and Greg Jones, an MBE who also is a member of the board of the Omega Foundation in Hartford. The Omega Foundation with the support of Hartford Hospital goes into barbershops and churches in low-income areas to educate people on chronic disease and diet. You can listen to the show here: http://wnpr.org/post/access-and-equity-can-we-get-affordable-care-all-connecticut
The reason I was asked to participate in the panel was because one of the goals of ACA is to increase insurance coverage for workers in small businesses, by reducing the cost of insurance. The secondary reason I was asked to participate is my academic background and previous work in health care economics. My dissertation over thirty years ago, was entitled, "Market Determinants of Quality and Access of Physician Services." It was an economic analysis of the impact insurance was having on the practice of medicine. My thesis was that third-party insurance would lead to the greater commercialization of medicine and all of the related industries.
Fast forward to today, and the ACA is the most significant change in the health care system since the introduction of Medicaid and Medicare in 1965. I believe that making high quality health care affordable to all Americans is a goal we should strive for. And I think that the ACA is an important step in that direction. However, I do not think it is ideal or the last step in this process of making sure that health care expenses do not bankrupt families or force parents to make choices over which child goes to the doctor.
At some point in the future, we will break the link between employment status and insurance coverage. It is this link that is forcing some small business owners, the ones the ACA is trying to assist, to make some tough choices of hiring one full-time employee or two part-time employees in order to avoid the cost of insurance. These are what economists call the "unintended consequences" of a policy that hurts the very people the policy purports to help.
The solution to this problem is blasphemous. The solution is that we really need to stop thinking about health insurance and focus on health and health services access. There is no need to have health insurance as we know it. We need a financing mechanism, but it is gross misuse of the English language to call it insurance. What we have now is not insurance in the true meaning of the term. It is pre-payment. Insurance is designed to cover low-probability, high-cost events, like a ship wreck or an act of piracy. What we have is a pre-payment system for high-probability events. A system that would limit an American's out-of-pocket expenses to 10 percent of their annual income can be accomplished without traditional insurance schemes.
Sooner or later we will get to a system where it is citizenship that determines access to health care services not employment. Sooner or later, we will shift the focus from how we pay for health care services to the actual health of the population. And sooner or later we will focus on the fact that health outcomes are responsibility of us all.