Sharing Stories from School Based Health Centers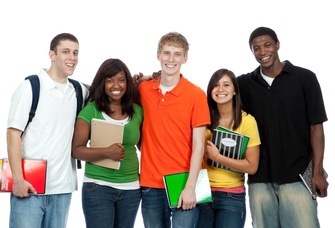 Students love their school based health centers (SBHC), as we posted back in February, which was National SBHC Awareness month. At that time, students in Norwalk wrote valentines to their SBHC staff, telling them why they love their SBHC.
The SBHC love didn't, however, end in February. For the month of May, which was Mental Health Month, the Connecticut Association of School Based Health Centers (CASBHC) had the storyboards (pictured below) hosted at the Legislative Office Building (LOB) in Hartford.
"Our students, their families, and school staff are powerful examples of why this health care method works," said Jesse White-Fresé, Executive Director of CASBHC. "The most powerful tool we have is the voices of the children and adolescents that use SBHCs.  If we ask them what they need to be healthy they will tell us.  Moreover, they tell us that the staff of the SBHCs provide an atmosphere of safety and provide the information they need to make better choices for their physical and mental health."
That's just one way one of our grantees is using to tell the story of the people they ultimately serve. How have you used stories to talk about the people you serve, and how has it helped? Has reading someone's story ever changed your mind?
Image from fotolia.com