Thanksgiving . . . from a Native American Perspective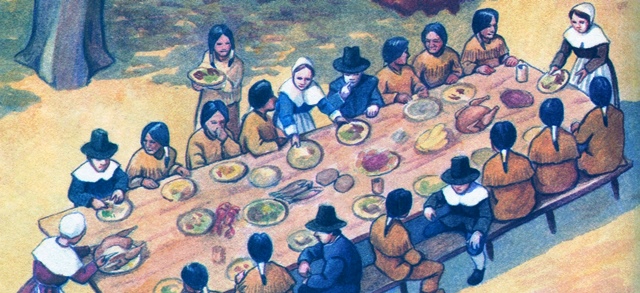 Today's guest blog post was written by Karen Eichstaedt, Vice President of Human Resources, UFCS, and Connecticut Health Leadership Fellow.
If you believed like many of us that the Native Americans present in North America for millennia before white settlers arrived sat down to a meal of turkey, dressing and pumpkin pie with Governor Winthrop and the first colonists of Massachusetts Bay Colony in 1621, you bought the myth that most of us have!
As a matter of fact, that first Thanksgiving specifically "uninvited" any Indians by erecting an 11 foot wall to keep them out! And when the day was officially decreed as Thanksgiving in 1637, it was to commemorate the massacre of some 700 Pequot men, women and children in Mystic, CT.  Not hardly the Thanksgiving pageants we celebrated in school complete with Indians in headdress.
Some 30 people gathered at the Southeastern Mental Health Authority on Tuesday, November 26th to not only share in a traditional Thanksgiving meal, but to also put Native Americans front and center of the table as discussions about the effects of historical trauma and it continuation today became the focus of lively conversations.
The event was sponsored by the Eastern Connecticut Fellowship, a group of graduates of the Connecticut Health Foundation's year-long  Fellowship Program designed to address and eliminate disparities in healthcare.  Chair Sylvia Baird organized the event, which included a presentation on Native Americans with illuminating facts about their experiences today:
more likely than any other race to have past-year alcohol abuse disorders
more likely than any other race to have past year illicit drug use disorder
a suicide rate higher than all other races in the Indian Health Services
and an alcohol-related death rate greater than the US all-races rate.
Most Tribal and Urban Indian communities have been impacted by the trauma inherent in the generational effects of Indian wars, genocide, forced  relocation, isolation, removal of children to boarding schools, poverty, racism and cultural loss.
Dinner conversation, in between bites of delicious turkey, stuffing and gravy, included soliciting opinions on such topics as Do you think mascots depicting Native Americans are offensive?  With the current Washington Redskins team logo controversy in the news, this brought up interesting contrasts between a logo showing pride at one point in history, but then, in a change of context and time,  has become offensive to many.
Another challenging question was can a person make racist statements without being racist?  Some thought yes, others no . . . and some said it depends!  Each table had 5 to 6 people, and a series of questions for discussion, in the Chicago Dinner model where people share a meal, but the topic is race!  Though the idea of sharing a meal is common, what is uncommon is the level of thoughtful and respectful communication that is shared when people have these conversations in a safe and welcoming environment.  Many agreed that these kinds of conversations are what is necessary to heal generations of misconceptions and untruths about one another.
A prayer from the Great Spirit sums up the day . . .  "Help me to find compassion without empathy overwhelming me . . .  I seek strength, not to be greater than my brother, but to fight my greatest enemy . . . myself."
Artwork (used with permission from the author) created by illustrator Elroy Freem for children's author Ann McGovern's book, The Pilgrims' First Thanksgiving.