The Campaign for a Stronger Connecticut: Helping Our Leaders Build Bridges to Better Health
Today's post was written by Jeanette Duffy, project manager at GALEWiLL Design (a consultant to the Connecticut Health Foundation).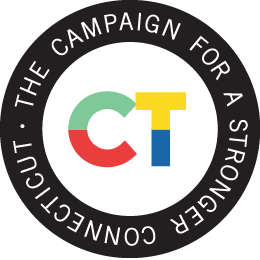 In New Haven, a scale in the front of a church gives weekly encouragement to a congregation working together to lose weight. In Hartford, employers gather to identify and overcome the obstacles they face in engaging employees around their health. And educators across Connecticut now have messages to promote the connection between students' mental health and their success in the classroom.
These are just some of the early outcomes from the Campaign for a Stronger Connecticut (Campaign). All across the state, leaders in education, business, community and health organizations are understanding and addressing the critical link between the strength of their organizations and the health of their people.
Over the next few months, my colleagues and I at GALEWiLL Design will be supporting the Campaign and the work of leaders looking to make progress in eliminating health disparities. To help with this process, we are introducing the Campaign's new website, www.strongerct.org. This site is home to messages and resources that can guide conversations about improving the health of people and organizations across sectors.
On the website, you can also read about the progress being made by the Campaign's three, year-one partner organizations. For the first year, the Campaign sought to engage partners whose broad networks would help spread the word to fellow leaders. We are proud to announce a partnership with the following organizations:
These partners are leaders in their sector who are advocating for "asks" that have been proven to improve the health of their people and their organizations. Each partner will look to either:
Encourage employers to engage in wellness activities that can improve employee health, lower employer costs and benefit their bottom line
Provide educational leaders with the resources needed to increase access to mental health care for students or
Employ established initiatives to encourage community leaders to utilize the extensive health resources in their areas
The Campaign for a Stronger Connecticut is working to create health equity for people of all races and colors. If you are a leader in business, education, community or health and you want to learn more about how disparities impact your organization, we encourage you to explore www.strongerct.org, follow the progress of our partners, follow the Campaign on Twitter (@StrongerCT) and stay in touch to see how the Campaign might help you with your work and how you too could get involved with the Campaign for a Stronger Connecticut.