The Promise (and Potential Pitfalls) of Health Information Technology (HIT)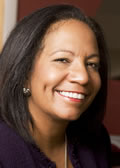 While interviewing Tina Brown-Stevenson about her role as Program Committee Chair for the Connecticut Health Foundation (CT Health), I also asked her to discuss her take on health information technology (HIT). As Chief Clinical Information Officer at Optum Insight, a health technology company, Tina is on the cutting edge of new thinking and trends in health technology.
In the video, Tina admits "I used to have a phone that attached to the wall, and it worked just fine" (which, given Tina's many productivity gadgets, is rather funny). Yet she balances that with the opportunity HIT offers to make patient care faster, with less duplication and error. From what Tina says, if clinicians can learn to use this technology AND make eye contact with their patients, HIT can continue to transform the delivery of health care.