The Winning Equation for Improving the Health of Communities of Color
Today's article was written by Jenn Whinnem, communications officer at the Connecticut Health Foundation.
"Hospitals are only after your money. They won't really take care of you."
Dexter Davis, who is African American, was a boy when a friend told him this, but the idea never left him. Even when he was sick enough to need medical help, he hid it from his parents. He was afraid that his condition would cause financial hardship for his parents.
Thinking back on those times today he says "I didn't want to cost them a lot of money for nothing."
Davis isn't the only one who thinks this way. A recent focus group of African American men in the Bridgeport area revealed that Dexter and his childhood friend aren't the only ones who believe doctors "don't really care" about them.
Clinics, hospitals, and other health providers have a negative reputation for not fully helping the African American community. As a result, many African Americans only go as a last resort, or try to cure themselves through home remedies passed down through generations, or just suffer their poor health. African American men live almost five years less, on average, than white men in Connecticut.[1]
The ripple effects of poor health can also be devastating for employment, education, housing, and parenting.
"PowerSource," the focus group of African American men, was organized to address one of the hardest questions of The Affordable Care Act (ACA), "How do we get men of color to want to enroll in health insurance and use a health care system that historically hasn't helped them?"
Solutions from the Community
Nancy Kingwood, associate minister at Mount Aery Baptist Church, acknowledged that experiences like Davis's are common among African American men. "Engaging black men is critical to bringing them into the system," she said on the phone.
In 2012, the Connecticut Health Foundation (CT Health) funded the Aspen Institute Roundtable on Community Change to host a series of community forums and educational workshops with the goal of engaging African American male consumers and health and human service providers that serve them about racial and ethnic health disparities. While one of the New York-based Roundtable on Community Change project leads was himself an African American man who resides in Milford, it was important to both CT Health and the Aspen Institute to engage a close local partner with community expertise. They found that in Mount Aery Development Corporation, which shared a portion of the grant.
PowerSource evolved naturally out of the work. When Kingwood spoke with Daniel Bland, her full-time colleague at her other job as Deputy Director of HIV Services at the Greater Bridgeport Area Prevention Program (GBAPP), about the opportunity to lead the group, he "jumped right on" as a volunteer.
Over its lifespan, PowerSource comprised a group of 50 – 60 men. These were professional men, men out of incarceration, and unemployed men. Ninety percent of them were men of color.
"Seventy-five percent of them reported negative interactions with health care insurance and health care providers," said Bland.
Bland, like Davis, emphasized the cultural components that prevent black men from going to the doctor. "Black men can be in a lot of pain and still they won't go to the doctor. They don't trust the doctor, or there's a huge financial barrier there.
"Mental health needs are even harder because of the stigma. In the group we had military veterans with post-traumatic stress disorder who didn't seek care because they didn't want to be labeled as 'crazy,'" said Bland.
The Aspen Institute conducted focus groups with PowerSource to identify these barriers, and then to figure out the solutions to the barriers. Over the summer, Aspen and Mount Aery published Strengthening Outreach and Enrollment Efforts to Increase Health Insurance Coverage among Men of Color in Connecticut (.pdf).
Strategies in the brief are aimed at community groups, Access Health CT (AHCT), the state's insurance marketplace, and the Connecticut Department of Social Services (DSS), to name a few. For community health centers, one of the strategies is for example, "Build eligibility screening into all center functions, including patient care, billing, translation services, and transportation services."
For community groups, one of the strategies is, "Encourage their female members to spread information about the ACA's enrollment options and urge the men in their lives to sign up for insurance coverage and utilize health services."
For CT Health, one of the strategies we're most interested in is called No Wrong Door (NWD).
No Wrong Door Simplifies Enrollment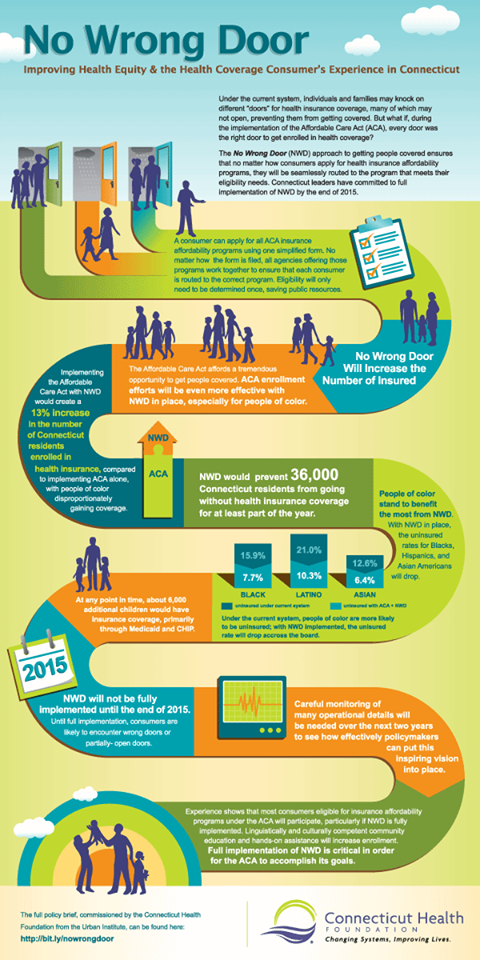 People of color on the whole stand to benefit most from the Affordable Care Act. The state of Connecticut also chose to accept Medicaid expansion, which makes adult African American males who are childless, or non-custodial parents, eligible for Medicaid. The percentage of uninsured in communities of color in Connecticut stands to drop approximately 43%, according to research we commissioned from the Urban Institute.
Even more people of color – in Connecticut could get covered, however, if the ACA is implemented with the philosophy of No Wrong Door (NWD) in place.
With NWD in place, every "door" into health insurance is the right one into coverage, simplifying the process considerably. NWD represents a systems change that would go a long way to bringing people into health insurance.
"NWD lifts the burden from consumers," said Matthew Buettgens, Ph.D., co-author of our policy brief about NWD (which you can find here). "They don't have to figure out for themselves which type of coverage or assistance they'd be eligible for. Consumers just need to start the enrollment process, and they'll get where they need to go."
NWD could mean that the uninsured rates for African Americans, Latinos, and Asians would be cut in half. Those are just estimates, however. According to Buettgens, "with meaningful, targeted outreach to those groups, we could do even better than that."
For example, the Urban Institute found that currently, there are approximately 32,000 African American adults without health insurance in Connecticut. With their modeling, UI found that with ACA implementation with NWD that number dropped to 15,000.
But "Targeted outreach could bring in more of that 15,000," said Buettgens. "In other states that were enrolling adults and children into Medicaid, there was more than 90% enrollment. It's not as clear-cut with plans offered through the marketplaces what will happen, because those plans, though subsidized, have have higher out-of-pocket expenses than Medicaid. More people will decline that type of coverage. But in those other states, targeted outreach helped make the difference."[2]
"NWD simplifies community outreach because there is only one form, one process to explain," said Buettgens. "A consumer can fill out one form, one time. That form can also be translated into multiple languages, removing another barrier for racial and ethnic populations."
The Aspen Institute and Mt. Aery Development Corporation's conclusions were similar: "Nevertheless, enrolling more men of color in health insurance will require targeted, aggressive outreach from trusted sources, effective messaging, and personal assistance in the enrollment process."
The Winning Equation to Enroll Men of Color
Fully implementing NWD in Connecticut won't happen until the end of 2015. During that time, DSS must modernize its information technology (IT) to allow it send and receive information from other systems, such as AHCT's. Robust IT systems that "talk to" each other are a linchpin in making NWD a reality. And we've seen the importance of the role of technology with the healthcare.gov difficulties; for an overview, read this recap of the Congressional Hearing on the matter.
In the meantime, Connecticut must work to overcome the other barriers as identified by PowerSource: the belief that doctors won't help you, that it's not worth the money.
PowerSource was a powerful experience for the individuals involved, and they decided to keep meeting after the focus groups concluded. Bland went on to bring in facilitators and other speakers to discuss preventative health. He brought in different health care providers to prove that the medical community does care about them. He brought in someone who sold life insurance to show how it would help them and their families.
"I learned from those conversations that I have to search. Doctors that care about me are out there, I just have to search for them. The people who came in [to PowerSource] helped us learn about walk-in clinics, places to go other than the emergency room, information about HIV/AIDS. Danny was the link. We trusted him, so we trusted the people who came in. And then the information we got was easy to share with our family members," said Davis.
The combination of learning about health care access from trusted sources with a simplified enrollment process could go a long way to improving the health of people of color. If Connecticut wants to "do better" than the predictions in the Urban Institute's research, it must implement NWD. And second, we must use strategies like the ones identified in Strengthening Outreach and Enrollment Efforts to Increase Health Insurance Coverage among Men of Color in Connecticut (.pdf).