Using Leadership Influence to Promote Health Equity with the Health Leadership Fellows
How do you use your leadership influence to promote health equity? At the June meeting, each of the four project teams in the Health Leadership Fellows Class of 2011 presented their projects and testified to the role of leadership in encouraging health equity.
First, an overview. The ultimate goal of the Health Leadership Fellows Program is to develop health equity champions by building knowledge, collaboration and leadership skills. To do this, participants form coalitions and choose real-world projects that tackle health disparities from a systems-change point of view.
Here we present an overview of the class of 2011's exciting work.
Achieving Equality in Diabetes Prevention and Pre-Diabetes Management.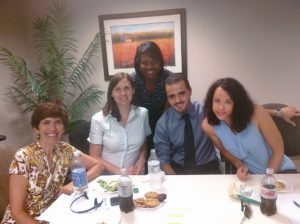 Type II Diabetes is a serious and costly chronic illness that can cause blindness, limb loss, and death (and that's just to name a few). It also disproportionately affects minority populations. Forty percent of African Americans born in 2000 will develop diabetes. And the prevalence of diabetes is almost twice as high in Latinos when compared with non-Latino whites.
This coalition (Kristen Noelle Hatcher, Kiavash Nikkhou, Stephanie O'Connor, Kristi Rodriguez, and Bonnie Roswig) set out to answer the question of: you've just seen your doctor, and she's told you that you're pre-diabetic – now what?
The state of Connecticut has a wealth of programs at low or no cost that will help patients answer that question, but there is one major problem: lack of awareness of these programs on the part of both patients and health care providers. The coalition teamed up with the United Way's 211 information and referral service   to create a database of state-wide culturally and linguistically appropriate prevention and treatment programs. Someone can simply call 211, or visit the website, and get connected with a program that fits their needs (no schedule too busy). The goal is for the Connecticut Commission on Health Equity (COHE) to maintain the database going forward.
How did they use their leadership influence? This group found it useful to leverage the power of those already active in this community—, including another participant as well as a Fellow from the class of 2007 who are managers at 211. This  gave the database a home with the potential to reach a wide audience and achieve sustainability. Additionally, one of the members is a Commissioner with the Commission for Health Equity.
By working with a fellow from the class of 2010, the group was able to successfully submit an article geared towards physicians in Connecticut Medicine, the peer-reviewed journal of the Connecticut State Medical Society!
Cultural Competency Toolkit for Medical Residents.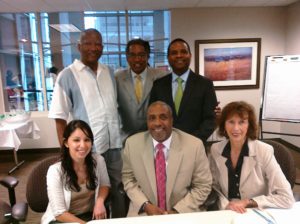 "Cultural Competence" is the ability to work effectively in the face of cultural differences that exist within a system, agency, or among professionals. When this coalition (Tom Ficklin, Damian Humphrey, Charlotte Parniawski, José Segura, Michelle Silva, and Frederick Smith) decided to examine cultural competence in the physician community, they zeroed in on Seifert and Ford Family Community Health Center at Danbury Hospital because José Segura is the health center administrator and has connections with key organizational decision makers.
A community health center setting was attractive to this group for both the patient and provider populations. Typically, racially and ethnically diverse low-income or uninsured individuals seek care in this setting; and providers in this setting are frequently doctors being trained as part of their primary care residencies. But, why Danbury? The city of Danbury has a rich immigrant population – 25 percent  of the population is foreign-born, and 20 percent of the population speaks English "less than well." About 50 percent of the clinic's patients are Latino, whereas most medical residents are from Middle Eastern countries.
The group met with Christi Holmes of the Connecticut State Medical Society and Health Leadership Fellow from the class of 2010 to identify relevant resources and materials, including health literacy resource books, cultural assessment tools, case studies, and web-based learning opportunities, to create a toolkit for residents. Next steps for the group include meeting with the Center to get their feedback, and to facilitate collaboration between the Center and CSMS for broader use of the kit.  The coalition also reported that the simple act of meeting with hospital leadership rekindled an existing commitment to cultural competence and health equity.
Dating Violence Among Minority Adolescents.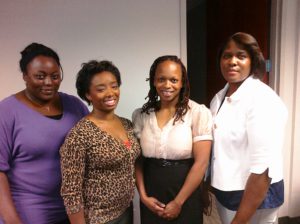 Approximately 20 percent of female high school students report being physically and/or sexually abused by a dating partner.  What's worse is that 60 percent of victims do not seek help when dating violence has occurred. And dating violence has a heftier impact on women of color: African American women and Latinas are about twice as likely to be affected than white females.
This coalition (Olatokunbo Famakinwa, Tiana Hercules, Tiffany Sanders, and Arlene Walsh) sought to capitalize on a state law that requires each local or regional board of education to provide an in-service training program on teen dating violence.  The group approached the Windham Board of Education to use Windham High School as a pilot, as the town of Windham has a predominantly Latino population.
Their action plan included drafting and implementing a dating violence policy, training school personnel, and creating a Youth Advisory Board to empower students. They successfully established a committee with Windham High personnel to ask tough questions that drove home the seriousness of the issue.  Together, they drafted a policy that they had translated into Spanish, and both versions are being included in student handbooks.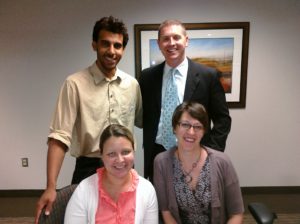 Health Equity and Local Health Districts in Connecticut.
The agencies that deliver public health services in Connecticut play a key role in the realization of health equity. This coalition (Alana Kroeber, Jennifer Muggeo, Frank Silva, and David Skoczulek) sought to raise the awareness of health disparities amongst leaders of local health departments and health districts, and encourage them to make health equity a policy priority.
Each local health district in Connecticut is governed by a board of directors that is influential in setting health policy for the district. With the assistance of the Connecticut Association of Directors of Health (CADH), who is currently working on a Health Equity Index project, this coalition aimed to help these boards address racial and ethnic health disparities.
To approach the boards, the group created individualized, strategic communications that made the issue of health equity real in the form of a document that defined health equity, provided real-life stories from local residents, and gave sample policies, procedures, and actions that local public health departments could implement.
The result? The North Central District Health Department made a formal motion to incorporate the tenets of health equity into future policy-making. The group also plans to meet with the Ledge Light health district board of directors, and additional requests for inclusion on board meeting agendas are in process.
Each coalition did a fantastic job of presenting their projects. The commencement for participants in the Health Leadership Fellows class of 2011 was held on June 16, 2011, and the ceremony included some well-known speakers. Stay tuned!