Valentines for School Based Health Centers
Why do students at Brien McMahon, Briggs, and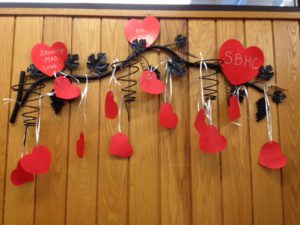 Norwalk High Schools love their school based health centers (SBHCs)?
"Because they take their time to help you."
"They take care of me and show me a lot of love"
"They make you feel welcome and give you personal attention."
"I feel comfortable sharing my personal problems."
"I love the SBHC because they love me"
"When I was going through a rough time they pushed me to do good"
February is National School Based Health Centers Awareness month. To celebrate, the National Assembly on School Based Health Care (NASBHC) has asked SBHCs around the country to share their stories.
The Dr. Robert E. Appleby SBHCs in Norwalk asked their students to create valentines that answer the question, "Why do you love your school based health center?"

More than Just a Nurse's Office
SBHCs, unlike the traditional counterpart of a nurse's office, provide primary health care services to students on a school campus. They are staffed by different types of providers, including nurse practitioners, physicians, mental health providers, and dentists and dental hygienists. Students who visit their SBHC can receive physical, oral, and mental health services.
"Students really trust the providers at our centers," said Rhonda Capuano, Director of the Dr. Robert E. Appleby SBHCs. "That element of trust leads to a strong relationship between the students and providers, leading to a higher quality of care."
The students weren't shy about showing their love, either. The valentine project received approximately 75 entries across the three schools. Rhonda and the staffs of the centers have been delighted by the response.
The SBHC as a Model for Quality Care
The SBHC model is particularly interesting to the Connecticut Health Foundation (CT Health) because it is very successful in engaging students of color. We currently have a grant with the Connecticut Association of School Based Health Centers (CASBHC), of which the Dr. Robert E. Appleby SBHCs are a member, to study why adolescent boys of color are more likely to use mental health services at a SBHC than anywhere else.
"According to the Connecticut Department of Public Health's Clinical Fusion database, 36 percent of visits to SBHCs among African American boys were for mental health services," said Jesse White-Frese', Executive Director of CASBHC. "We want to understand why this model of care is so successful for boys of color so that we can duplicate that success."
The results of that research will be available in April (and will be shared here on the CT Health blog).
In the meantime, the City of Norwalk high schools have a lot of love going around.
UPDATE: A student from a Norwalk school was featured in this article in the Public News Service!