Why Health Information Technology Can Move us Toward Health Equity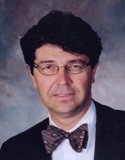 "We have a tremendous opportunity to embed within the system the ability to learn how health care is delivered in an equitable fashion."
Victor Villagra, MD, is a Connecticut Health Foundation (CT Health) Board Member who also serves on our program committee. The Office of Health Reform and Innovation asked Victor to co-chair, along with Department of Social Services (DSS) Commissioner Bremby, the Health Technology Work Group. OHRI is spearheading the state's health reform effort and ensuring it is in sync with federal reform.
The HTWG is focused on accelerating the adoption of technologies that will improve the quality of care. To do this, they are promoting the meaningful use of electronic health records (EHRs) to physicians, hospitals, and nursing homes, to name a few.
EHRs provide numerous opportunities to make health care delivery more efficient. For example, EHRs can significantly reduce errors in tracking prescriptions and routine testing. EHRs help providers spend less time filling out paper work and more time with the patients themselves.
Providers that can track the health care of their patients can make sure all of their patients receive the same care, across racial and ethnic lines.
In honor of Minority Health Month, I asked Victor to discuss the current state of health technology in Connecticut and the vision for the future of technology and health.