Alana Kroeber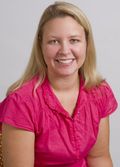 Lead Care Coordinator, United Way of CT/HUSKY Infoline
Rocky Hill, CT
Leadership is the ability to identify opportunities for change and improvement and having the courage to take steps to make change happen.
Alana Kroeber's academic background and professional career led her to understand racial and ethnic health disparities. As an undergraduate at Wesleyan University, she was instrumental in founding Wesitters, a community service group providing free childcare to low-income mothers in the community.
While pursuing her master's in public health at the University of Connecticut, Kroeber studied issues including food and nutrition policy, the uninsured, maternal and child health, and the environment. It became very apparent that these matters were connected to each other and to the health status of racial and ethnic populations. "Just as important as my academic work is my experience with the United Way of CT/HUSKY Infoline. This work in conjunction with other community health activities, were my motivations for pursuing graduate study in public health," she says.
Kroeber enjoys gardening, cooking and supporting local agriculture and sustainable food systems. "Healthy, nutritious foods should be available to all children, just as quality health care should." Free time is spent with family and friends on her family's boat, at the beach, and hiking.