Arlene E. Walsh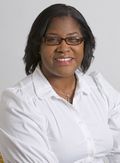 Student, Mercy College
Dobbs Ferry, NY
Leadership is having the ability to inspire and motivate others to transcend their own expectations, and those put upon them by society.
Currently in the process of completing her master's in public administration at Mercy College, Arlene Walsh understood early the importance of education for decreasing racial and ethnic disparities in health care.
And, as a court appointed special advocate for children in state foster care, Walsh saw that many families were struggling with domestic violence and sexual assault issues. This experience led her to become a certified advocate for those women and children.
"Building collaborative relationships towards a common cause is extremely important to me" says Walsh. "My desire is to transform the thinking of leaders so that they understand the importance of ending the racial and ethnic divides that have been perpetuated for decades and that have resulted in disparities in health care options and outcomes."
Walsh is an avid reader and volunteers with the School Volunteer Association Read-Aloud program in her hometown. Spending time with her children, going on vacation, walking, and Friday night karaoke are activities that help keep her grounded.