Bonnie B. Roswig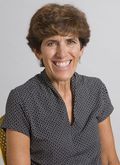 Senior Staff Attorney, Center for Children's Advocacy, Inc.
Hartford, CT
Leadership is the ability to guide others to fulfill their potential while achieving the mission of the parent agency.
Attending public school in New Haven in the 1970's, a time of racial, political and social upheaval, was central to Bonnie B. Roswig's path of focusing on social justice and the eradication of disparities in public schools. After earning her bachelor's degree at Bennington College in Vermont, Roswig enrolled in the Antioch School of Law in Washington, DC, which was funded in part by the Legal Services Corporation. "The goal of the law school was to train a generation of attorneys who were committed to addressing legal and social disparities," says Roswig.
Roswig worked for legal services in Georgia and, although the political and cultural issues were miles away from New Haven, the issues of poverty and the desperate need for legal assistance remained the same. Roswig returned to Connecticut, working for a number of years for legal services programs before joining the Center for Children's Advocacy.
"Given the time pressures of my profession, my other focus has been my family. My four children, now on the verge of adulthood, have been my pleasure and my passion."