Charlotte Parniawski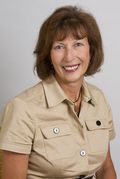 Nursing Instructor, Bridgeport Hospital School of Nursing
Bridgeport, CT
A leader should recognize not only the potential of individual team members, but their personal attributes. If members are valued by the leaders, the team will succeed.
Brought up in an inner city with immigrants from all backgrounds, Charlotte Parniawski says, "We had one common denominator: parents working hard with hopes and dreams for the success of their children."
Parniawski earned her RN at Bridgeport Hospital School of Nursing and BSN and MSN from Sacred Heart University. While a cultural diversity trainer through the National Multicultural Institute in Washington, DC, she became aware of the importance of understanding health care perceptions of people from diverse backgrounds. Her experience illustrates the value of trust between patient and health care providers, and the importance of culturally-appropriate health care educational materials; medically-trained interpreters; and working with intergenerational teams. As a nursing instructor, Parniawski has the opportunity not only to stimulate new practitioners to examine their care delivery skills and knowledge, but also to encourage them to become culturally competent.
A love of outdoors sports, traveling with her husband, involvement in church communities, and a passion for dancing, fill up her life. Most importantly, she values time with her family.