David Skoczulek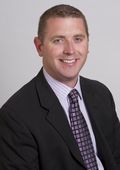 Director, Business Development and Community Relations,
Ambulance Service of Manchester, LLC & Aetna Ambulance Service, Inc.
Manchester, CT
Leadership is the ability to be an example for others through hard work, consistency and determination.
David Skoczulek, a transplant from Orange County to Cape Cod and finally to the Hartford area, realized that southern California's racial diversity was not the norm. He says, "I have worked in emergency medical services (EMS), in varying capacities since I was 19 years old and have seen firsthand the correlation between socioeconomic status and a lack of quality health care."
Skoczulek, a practicing paramedic since 2001, has a bachelor's degree in emergency medical services from Springfield College, and a master's in public health and graduate certificate in public financial management from the University of Connecticut. His MPH thesis focused on the use of EMS to decrease the burden on Connecticut's emergency departments. He notes, "Clearly, trends in emergency services as part of the health care safety net correlated to barriers in language and culture."
Skoczulek is committed to his community and is a member of several boards and councils as well as the Rotary Club. "I pride myself on investing my time and my heart into the nonprofits, programs and agencies for which I volunteer," he says.