Emily Joy Jensen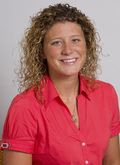 Curriculum Specialist/Project Manager, Connecticut Multicultural Health Partnership
Eastern Connecticut Area Health Education Center (AHEC)
Jewett City, CT
Leadership is the ability not only to forge new paths, but also to inspire others to work together in discovering those paths.
"Within the next 10 years I hope to graduate from a physician assistant program and obtain a master's of public health," says Emily Joy Jensen. "I want to work with medically underserved communities."
After earning her BS in biological sciences from the University of Connecticut, Jensen worked as an intern at Eastern AHEC, providing health education and screenings to migrant farm workers and soup kitchen patrons. The majority of the individuals she worked with were Latino. Most had extremely high blood pressure and, without health insurance most were unable to obtain needed prescriptions. This experience fueled her passion to become a leader in health to create change so the term 'health disparity' would not be known by generations to come. In response, Jensen promotes health equity through the initiatives of the Connecticut Multicultural Health Partnership as the project manager.
Jensen also practices what she preaches about health. Along with a good diet, regular exercise, and meditating, she is training to compete in a triathlon in early summer of 2011.