Frank Silva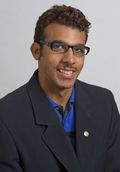 Minority Outreach Case Manager, Alliance for Living
New London, CT
A leader inspires, guides, communicates, and challenges us to be the best version of ourselves.
A native of Puerto Rico, Frank Silva relocated to Connecticut after his father accepted a position here as a chemist. He believes that this transition influenced him to take action in eliminating racial and ethnic health disparities. "Individuals who move to the U.S. struggle with adapting to a new system of health care." He is particularly concerned about the lack of health care professionals who are culturally competent.
Silva has worked with nonprofit organizations including Centro de la Comunidad of New London; United Community Family Services; and United Way of Southeastern Connecticut. He has also been a teacher assistant at Harbor Elementary School in New London. He is completing his certification as an HIV/AIDS educator for the state.
Recently Silva received his bachelor's degree from the University of Connecticut, with a major in human services and a minor in psychology. Early in 2010 he was selected to represent Southeastern Connecticut, traveling to South Africa in a group study exchange with Rotary International.
When not working, Silva enjoys playing keyboard, singing, jogging, traveling, and spending time with his family, his friends, and his youth group.