Frederick E. Smith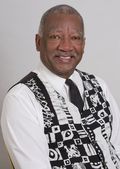 Director, Division of Health and Wellness,
Human Resource Agency of New Britain, Inc.
New Britain, CT
Leadership is the ability to inspire and motivate people to engage in actions that result in positive outcomes — by creating a shared vision and providing tools to actualize that vision.
"Living at the end of segregation in the South remains part of my cultural experience; it has caused me to be often driven to address racism which, in many instances, is at the root of racial and ethnic health disparities," says Frederick E. Smith. He credits his professional success to his parents, grandparents and a community that embraced and nurtured him.
A graduate of Rutgers University with a bachelor's degree in theatre arts and speech, Smith earned a master's degree in human service administration from Springfield College. Passionate about helping people realize their potential, he enjoys training, conducting workshops and 'seeing the lights go on' when others understand a concept he attempted to impart. A certified substance abuse professional, he is on the board of the CT Certification Board for Substance Abuse Professionals. For relaxation, Smith listens to classical jazz and enjoys nature. An avid traveler, he has been to nearly 40 states and six countries, with Africa on his 'bucket list' of places to visit.