Kiavash Nikkhou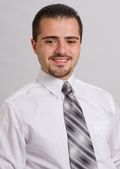 Student, Yale University School of Medicine
New Haven, CT
Leadership is the ability to increase awareness and to encourage unified and purposeful changes toward achieving a goal that benefits humanity.
"Perseverance, determination and compassion are three words that always echo in my mind," says Kiavash Nikkhou. When he was a young boy, Nikkhou emigrated with his family to the United States as refugees from Iran, escaping religious discrimination resulting from their Jewish faith. After struggling to learn a new language and culture, he soon realized that 'the land of opportunity' was discolored by significant racial and ethnic disparities.
Majoring in physiological sciences and neuroscience at the University of California in Los Angeles, Nikkhou was involved in a program serving local disadvantaged communities. At Yale he combines his commitment to medicine and community service by volunteering at the HAVEN Free Clinic, a student-run clinic for the uninsured and underinsured.
Through the Yale Latino Medical Student Organization, Nikkhou led a program to increase recruitment of minority students into medicine. "Alongside a medical career, one of my aspirations is to help eliminate health care disparities by increasing awareness among community leaders and policy-makers."
When not studying medicine, Nikkhou pursues his interests in culinary arts and the outdoors.