Kristi L. Rodriguez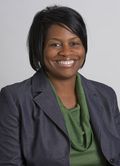 Director of Market Implementation for Diabetes Prevention and Control Alliance, United Health Group
Hartford, CT
Leadership begins with a commitment to serve and promote equity. Servant-leaders must challenge themselves and others to collaborate and improve the quality of life for everyone.
Growing up in metropolitan areas with large ethnic populations, Kristi L. Rodriguez is committed to making an impact on health equity/wellness in economically depressed and minority communities. "The emergence of culturally relevant preventive education to mitigate chronic diseases is critical in underserved communities," says Rodriguez. As a health care professional in the insurance sector, she is committed to a better, more comprehensive health care community delivery system for the uninsured and underinsured. A passionate promoter of community-based health and wellness education programs, she is engaged with her community through working with non-profit and social organizations involved in health and wellness initiatives.
Rodriguez received her bachelor's degree in finance from Hampton University in Virginia. She plans to apply for a master's degree in public health, which will help her achieve the career goal of improving community health through preventive care. She lives in Windsor with her husband and two daughters, is an avid reader and a fitness enthusiast, and hopes to compete in her first biathlon in 2012.