Michelle Alejandra Silva, PsyD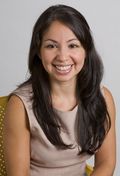 Associate Director, Connecticut Latino Behavioral Health System
instructor, Yale University School of Medicine, Department of Psychiatry
New Haven, CT
Leadership demands the courage and integrity to recognize and give voice to the experiences, needs, and strengths of individuals who may otherwise remain silent.
"I grew up in a close-knit family of Ecuadorian immigrants who instilled in me courage, and the values of hard work, education, personal responsibility, and lifelong learning," says Michelle Alejandra Silva.
Silva earned a bachelor's degree in psychology from the University of Connecticut and her master's and doctorate of psychology from the University of Hartford. "I sought opportunities to work with Latino families, recognizing that I enjoyed working with this population not only because we shared a language and certain values and traditions, but because the stories I heard and the people I met compelled me to make a difference," she says.
As a Latina psychologist Silva has 'grown up' professionally while working in an urban community mental health setting; has become sensitive to existing racial and ethnic health disparities; and is eager to learn more about disparities affecting Latino communities in other areas of the health care system.
Beyond professional responsibilities, Silva enjoys spending time with family and friends, watching soccer, exercising, traveling to warm places, and trying out new recipes.