Olatokunbo M. Famakinwa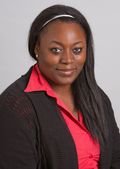 Student, Yale University School of Medicine
New Haven, CT
Leadership is being able to truly motivate and encourage your team; it is recognizing that everyone is an important member with valuable ideas to contribute.
Olatokunbo M. Famakinwa recalls sitting among stacks of old medical journals in the library basement where she first stumbled upon accounts of early 20th century physicians who grappled with racial disparities in hypertension rates. Working on her senior thesis, she was intrigued by these stories – especially since many of these disparities persist today. She decided to pursue a career in medicine, realizing that serving as a physician would be her way of alleviating the burden of disease in her community.
After graduating cum laude from Princeton University with a degree in history, Famakinwa went to the Yale University School of Medicine. In her first year, she served as co-director for the HAVEN Free Clinic. From this experience she understood that working among underserved populations requires more than noble ideas; working effectively in the complex health care system demands an understanding of the forces at work and a relentless desire to create practical solutions.
Outside of medicine, Famakinwa enjoys African dancing, reading, road trips around the country, and spending time with her family.