Thomas Ficklin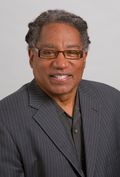 President, Ficklin Media Group
New Haven, CT
Leadership is expanding opportunities for creativity, innovation, and self-fulfillment.
Thomas Ficklin, a native of Pittsburgh and a 1967 graduate of Choate, had no idea he would be making New Haven his home for much of his adult life. Following graduation from Bucknell University with a bachelor's of arts in political science, he went on to receive a master of divinity from Yale Divinity School.
Prior to establishing the Ficklin Media Group in 2008, he held human resource positions in management training, affirmative action, and community relations. As CEO/editor-in-chief of the Inner City Newspaper Group, Ficklin was responsible for the management and creation of the editorial product. He went on to be the chief information officer for Empower New Haven. Among his responsibilities was the creation and implementation of brand identity, awareness campaigns, and media relations.
Ficklin has served on a number of boards, including those of the Yale Club of New Haven, United Way, Choate-Rosemary Hall, New Haven Symphony and the Regional Workforce. Although he still roots for the Pittsburgh Steelers, his loyalties have transitioned to the Pop Warner Steelers. Ficklin and his wife, Julia, have a son, Toma, and two grandchildren.