Tiana Victoria Hercules, JD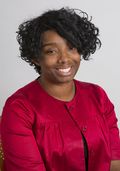 Attorney, Center for Medicare Advocacy, Inc.
Willimantic, CT
Leadership is exhibiting the ability to identify the strengths of others and using that intuition to inspire a group to take action to achieve a common goal.
The eldest of nine, Tiana Victoria Hercules grew up and attended public schools in New London. "Coming from a big family I have always been intrigued about social interactions and relationships between groups of people." That interest led her to earn a bachelor's degree in sociology and government at Connecticut College. She says, "I noticed that there were many subjects that I was never exposed to, as compared to my classmates." In response to these disparities within public schools, Hercules co-organized Advocating Brighter Choices (ABC), a student-run nonprofit that provides mentorship, tutoring and job access to young adults and teens.
After college, Hercules obtained a law degree at the University of Connecticut (UConn) School of Law and simultaneously earned her MBA at UConn's School of Business. An attorney and advocate at the Center for Medicare Advocacy, she provides legal representation and advocacy to Medicare recipients.
Hercules, who is married with two sons, is very family-oriented. "My family is my foundation," she says, "and what inspires me to want to change the world."