Tiffany M. Porter Sanders, MD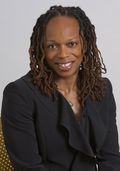 Clinical Director, Federal Bureau of Prisons
Danbury, CT
Leadership is being bold enough to take a stand. It often starts as a single thought — the realization that the world can be improved in some way, and taking a small action to make it better.
Tiffany Sanders and her family experienced first-hand the difficulties of navigating the medical system when her father was diagnosed with cancer. "My dad was courageous; he wanted to beat cancer" says Sanders. He lost his battle but the spirit with which he fought changed how Sanders views the world. "I no longer perceive any limits to what I can accomplish. I know that adversities will come, but I will never let them stop me from giving all I have."
Sanders received a degree in biology from the University of Virginia, and graduated from the Drexel University School of Medicine. She is currently pursuing a master's degree in public administration at New York University and is a clinical director for a women's federal prison
Sanders, who hopes to shed light on problems encountered by the underserved, is passionate about improving the lives of women. "It is my hope that some woman will look at me and want something more for her life," says Sanders.