Betty C. Murray, MPA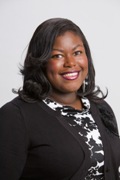 Disparities Project Coordinator
CT Cancer Partnership and
Hartford Hospital Helen & Harry Gray Cancer Center
Hartford, CT
"True leadership is the epitome of servant hood."
Over the years, Betty C. Murray has demonstrated her passion for policy, social justice and health equity in her work.  At Hartford Hospital she coordinates disparity focused projects to implement the Connecticut Cancer Plan across the continuum of cancer control.  In addition Murray serves as a liaison to state-wide commissions and organizations that address disparities, including the Connecticut Commission on Health Equity and the Connecticut Multi-Cultural Health Partnership.  Prior to joining the Connecticut Cancer Partnership in 2010, she served as a community engagement specialist for the Connecticut Association of Directors of Health – Health Equity Alliance.
Murray's degrees include a bachelor of arts in political science from Morgan State University in Maryland.  She earned her master's of public administration from the University of Baltimore and is currently pursuing a degree in health administration.
Murray is a 'proud' Bridgeport native who is committed to giving back to her community.   She has a passion for the performing arts and enjoys traveling and spending time with family.