Jenn Whinnem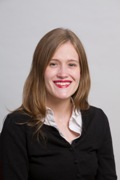 Communications Officer
Connecticut Health Foundation
Hartford, CT
"True leaders empower others to make a difference.  But what empowers one person may not empower another.  Flexibility and creativity are key."
Jenn Whinnem has always had an interest in healthcare, and her professional path reflects that.  Before earning her bachelor of arts from Eastern Connecticut State University, she worked as both a doctor's secretary and a caregiver for the elderly.  Since graduating, she has held positions of increasing responsibility in the communications field in the pharmaceutical and clinical research industries.
In her current role as communications officer at the Connecticut Health Foundation, Whinnem manages the web, social media and e-mail initiatives, and contributes to overall web vision and strategy for the foundation.  "The mission of the foundation, health justice for Connecticut's residents, really resonated with me," says Whinnem.  "Being able to contribute to a vision of health equity inspires me every day."
She enjoys modern and contemporary poetry, wine, and cheese and is fascinated with the internet and its possibilities.