Konjit V. Page, MS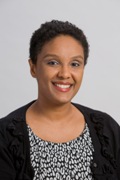 Yale University Psychology Fellow
New Haven, CT
"Leadership involves courage, tenacity and resilience.  Leaders have the ability to think big and motivate others to expand their thinking and participation in ways they may have thought were impossible."
Konjit V. Page was born in Athens, Greece, but was raised in a bicultural family in the United States in a community of racially and culturally diverse military families.  "My commitment to addressing racial and ethnic health disparities developed during my masters-level training in the Community-Based Block (CBB) program at San Diego State University.  CBB is committed to training multicultural counselors who will serve as social agents of change within communities and systems," she says.  Page earned her master's of science degree in counseling and bachelor's of science in psychology at the university.
Page is pursuing her PhD in counseling psychology and views the education and training she has received as a critical component in advancing her advocacy and leadership initiatives.  She looks forward to continuing her advocacy work within community-based settings.
Page enjoys crocheting and spending quality time with family and friends.