Marcus M. McKinney, D.Min., LPC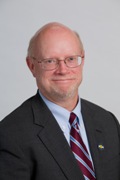 Vice President, Community Health Equity and Health Policy
Saint Francis Hospital and Medical Center
Hartford, CT
"Leadership includes the importance of 'ideas' for their own sake.  There is an opportunity to lead when people are allowed to share and refine ideas around common goals and values."
Dr. Marcus M. McKinney's background has included the study of religion, psychology, and health with a bachelor's degree from the University of Maryland, a master of divinity from Southwestern Baptist Theological Seminary and doctorate of ministry from Andover Newton Theological School in psychology.
"Over the last couple of years I have partnered with a friend, a surgeon, to embark on an outreach model of healthcare that aims to initially help men at risk for prostate cancer.  The response from the community has been great and our initiative has quickly expanded to address health disparities."   This led to the creation of the 'Center of Health Disparities' to bring changes to the hospital system where they work.
"I am passionate about my family, my dogs and my music – all of which feed essential things to the soul," says McKinney.