Michael Reid, MSW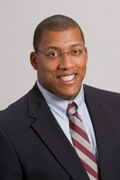 Program Assistance Technician
Connecticut Department of Social Services
Hartford, CT
"Effective leaders have a vision and are exceptional at getting other people see their vision. They are coalition builders able to bring diverse people or groups together to work toward a common purpose."
Becoming aware of the health disparities within low-income communities and communities of color inspires Michael Reid to contribute to health equity work.  After earning his master's of social work at the University of Connecticut, Reid became actively involved in addressing barriers to health and well-being that are rooted in poverty and racial and ethnic disparities.
Reid serves on the Advisory Commission of Food Policy for the City of Hartford, which has afforded him the opportunity to work alongside other residents to have a positive impact on food access and nutrition within low-income neighborhoods of Hartford.  Reid believes improved nutrition is one way to tackle health disparities.
Reid is an active member of the NFL Alumni and Former Players network, and contributes to awareness about physical trauma and health concerns for football players at all levels.  He also enjoys beekeeping and gardening with family and friends.