Sarah Diamond, PhD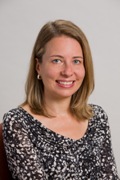 Director, Diamond Research Consulting, LLC
West Hartford, CT
"A leader is a person whose vision, actions and commitment inspire others to effectively work together to achieve a common goal."
As a daughter of a first-generation German immigrant and a Jewish American, Sarah Diamond developed a strong consciousness of the effects of racial and ethnic discrimination as a child, which was reinforced while a student at the University of Chicago where she majored in cultural anthropology.  Diamond completed her PhD in anthropology at the University of Pennsylvania.
Diamond's work in public health began in 2001 and continues today.  She has over ten years experience as an anthropologist examining the social determinants of health among urban youth and young adults living in Connecticut.  Currently she directs a research consulting firm that specializes in applying community-based participatory research to develop and evaluate culturally-congruent programs in health and other areas.  Diamond is an Associate Research Scientist at the University of Connecticut, Center for Health, Intervention and Prevention.
When not involved with her many volunteer activities, her hobbies include poetry, jewelry-making and photography.