Tonya L. Wiley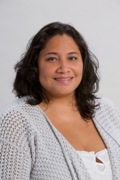 211 Health & Human Services Supervisor & Trainer
United Way of Connecticut/211
Rocky Hill, CT
"Leadership is about constant growth, for yourself, those around you and your community.  A leader recognizes potential and opportunity, and has the capability and courage to help people realize it."
The daughter of a naturalized immigrant, Tonya L. Wiley is acutely aware of the struggles people with diverse ethnic backgrounds can face.  Her personal experiences assisting her father with the difficult navigation of the veterans' health care system, coupled with her work experience, have instilled in her a drive to effect change in the health care system.
After serving in the U.S. Air Force, Wiley moved to Oklahoma City and began her work in the nonprofit sector.  She earned her bachelor's degree in English at the University of Central Oklahoma.  "My career in the nonprofit arena gives me the opportunity to help people on a larger scale.  It is very satisfying to know the work I do will help create real change in my community," she says.
A mother of two teenagers, Alynna and Anthony, she spends free time with her family and her dog, Maximus.