Aldon Hynes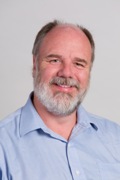 Social Media Manager
Community Health Center, Inc.
Middletown, CT
"Leaders help others find ways to express and act on their own passions."
Aldon Hynes has always been interested in helping people find their voices, especially the underserved and disenfranchised.  He has worked as a blogger and freelance writer covering topics that too often get ignored, particularly in terms of local news.  He was one of the first bloggers to be credentialed to cover a national political convention at the 2004 Democratic National Convention as well as various state and local political conventions.  He continues to explore how the Internet can help activists get their messages out.
As the social media manager at the Community Health Center, Hynes promotes events and causes that tell stories of improving health outcomes for underserved populations.  He has participated in and helped organize many online discussions and has spoken at conferences on the use of social media in health care, including conferences of the National Association of Community Health Centers and the American Group Psychotherapy Association.
For many years he has been involved in politics, promoting the use of social media as a means of encouraging people to become more active in their civic life.  In 2012 he accepted the Democratic Party Nomination to run for State Representative.