Atique A Mirza, MD, FACC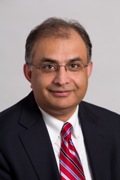 Assistant Professor of Clinical Medicine
Department of Cardiology
University of Connecticut School of Medicine
Hartford, CT
"Leadership is the ability to inspire, motivate and empower a group of individuals to align their interests and efforts to deliver excellence towards a common goal that is beneficial for each person and the wider community."
Atique Mirza, MD is a consultant cardiologist at Saint Francis Hospital and Medical Center, an assistant professor of clinical medicine at the University of Connecticut, and partner at Central Connecticut Cardiologists, LLC.  He graduated from Allama Iqbal Medical College in  Lahore, Pakistan with a medical degree.  He completed his medical residency at Rush Presbyterian St. Luke Medical Center and Westlake Hospital in Chicago, IL.  Dr. Mirza pursued his medical specialty training in cardiovascular medicine in Boston at Brigham and Women's Hospital and Harvard Medical School as well as a cardiovascular medicine fellowship at the University of Connecticut.
Dr. Mirza is a community activist, who has been involved in increasing the recognition of health and social issues faced by Asian Americans at local and national level.  He serves as a board member of the Asian Pacific American Coalition where he is involved in increasing awareness of health issues and health disparities faced by our community,
Dr. Mirza has made Connecticut his home and resides here with his wife and three children.