Chinekwu Obidoa, PhD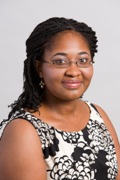 Research Associate
The Institute for Community Research
New Britain, CT
"Leadership is a way of thinking that positions one to take responsibility for bringing transformation to lives, systems and contexts."
After completing her bachelor degree with honors at the University of Nigeria, Chinekwu Obidoa was admitted to the University of Connecticut for graduate study in geography.  On completing her master's in geography, specializing in medical geography, she went on to earn a master's in public health at the University of Connecticut and a master's of science in international studies at Central Connecticut State University.  More recently, she earned her PhD in public health concentrating in social and behavioral health from the University of Connecticut.
As a graduate student, Obidoa was involved in different types of public health research, practice and teaching at the college level.  As a public health professional, her area of work has focused on community-based research addressing structural and social inequities that affect the quality of health of marginalized populations.  She hopes to contribute to the elimination of health disparities through research and practice that promote justice and equity.
Outside of work, Obidoa enjoys interior decorating, mentoring young people and helping people achieve their goals.