Ellen S. Boynton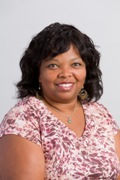 Training Program Coordinator
Department of Mental Health and Addictions Services
Office of Multicultural Healthcare Equality
Hartford, CT
"Leadership means having the vision, knowledge, character and will to lead those you wish to serve."
Ellen Boynton went to college to become a teacher but realized that the traditional classroom would not be where she helped youth.  She changed her major and graduated with a bachelor's degree in applied social relations and psychology from Eastern Connecticut State University.  This led to directing youth programs and allowed Boynton to focus on exposing young people to experiences with people from diverse backgrounds so they would appreciate difference and reduce their stereotypes and discrimination.
"I heard firsthand the impact of disparities in healthcare when consulting and conducting focus groups around the state.  I heard stories of discrimination and of family tragedies because providers didn't speak their language or understand their culture with relation to mental and physical health issues."   Profoundly impacted by her work with youth and the experience of having done the research, Boynton is driven with passion for the work she is doing for the Department of Mental Health and Addictions Services, providing cultural competency training for clinicians, physicians and staff in the system.
Boynton and her husband enjoy their children and grandchildren, spending time with close friends and traveling.