Erika Ulanecki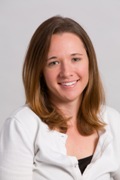 Director, Office of the President
Planned Parenthood of Southern New England, Inc.
New Haven, CT
"Leadership requires commitment to continuous learning and self-reflection.  Only by challenging ourselves to push our own boundaries can we inspire others to grow and change as well."
Erika Ulanecki's professional path has been consistently informed by a commitment to helping others.  After graduating from college, she worked in the district office of Congresswoman Rosa DeLauro, providing casework services to constituents seeking housing and utility assistance.
Over the past eight years, she has worked at PPSNE serving in positions of increasing leadership.  "Ensuring access to women's health services is critical to creating and sustaining healthy communities.  I'm proud to be a part of an organization that has made women's health a priority for nearly a century," she says.  In her current role, she collaborates with the agency's senior leadership team to provide strategic organizational systems support to the CEO.  She has also helped to develop and facilitate several internal leadership development programs for PPSNE staff members.
Ulanecki holds a bachelor's degree in American Studies from Smith College, as well as a graduate certification in nonprofit management from the University of Connecticut.  She enjoys traveling and exploring new places, reading, and rooting for her beloved Red Sox.