Francisco A. Lopez, PhD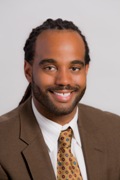 Post-doctorate in Clinical Health Psychology
VA Connecticut Healthcare System
West Haven, CT

"Leaders are keenly aware that they are accountable to more people than just themselves. As such, leaders maintain the vision and mission of the organizations they serve while showing compassion, commitment and sensitivity to those they lead."
Francisco Lopez's passion has consistently been for learning and understanding the manifestations of mental health issues within the context of culture, health, and quality of life.  His passions have flourished in the field of psychology, in which observation and service of others can occur simultaneously.  Lopez received a bachelor's degree in psychology at Buffalo State College, his PhD in psychology from the University at Buffalo, and completed his doctoral internship at Yale University department of psychiatry.
His motivation to actively work to eliminate racial and ethnic health disparities has been influenced by personal experiences and observations he made across varied health settings, which included the lack of access to medical interpreters and the inability of health professionals to provide culturally sensitive treatment.
Apart from his professional interests, Lopez is committed to serving the needs of his local community by serving on the Board of Directors for the Spanish Community Center in his hometown.