Jaquel Patterson, ND, MBA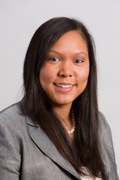 Director of Operations
Norwalk Community Health Center
Norwalk, CT
"Leadership is the ability to engender change in others and leverage their innate skill set for the benefit of the whole."
Jaquel Patterson became interested in community health during her tenure at the University of Bridgeport.  As a volunteer she became more acutely aware of the barriers to care for those of lower socioeconomic status and/or underrepresented populations.  After receiving her doctoral degree in Naturopathic medicine from the university, she took a position working at a federally qualified health center in the Bronx, NY.  Her work there more clearly illustrated how patients were hindered by their inability to afford medicines and transportation to health care facilities, language barriers, access to quality food and exercise – just some of the challenges that directly had an impact on their health needs.
Patterson completed her MBA in healthcare management at Quinnipiac University and continues to remain devoted to community health in her current position.  "If we truly believe in equal rights of all people, systematically denying access to quality of care that is on par with the large majority is unfair and society loses as a result; to let one fall aside means that we, on average, are lesser because of it," she says.
Outside of work Patterson maintains a private practice, Well Med CT, in Norwalk, CT.